NFVI Competitiveness Report Released by GlobalData: Huawei Ranks First for Fourth Consecutive Years with Full Scores in All Dimensions
GlobalData, a world-renowned consulting firm, recently released a report entitled "Network Function Virtualization Infrastructure (NFVI)/Telco Cloud Infrastructure: Competitive Landscape Assessment".
The report evaluates global telco cloud platform vendors in terms of architecture, carrier-grade capabilities, management, market momentum, performance, and professional services. Huawei telco cloud solution was once again named the "Leader" among its peers for the fourth year in a row with full scores in the NFVI field in all dimensions.
Telco cloud infrastructure needs to enable operators to automate network functions to meet growing traffic demands, the report points out. As a result, infrastructure platforms must provide carrier-grade performance, reliability, and scalability for network functions deployed at central data centers and network edges.
The report recognizes Huawei's leading position in the telco cloud field and its contributions in enabling operators to integrate physical and virtualized data centers, optimize service platforms, tap into the value of IT infrastructure, and improve service quality. All in all, Huawei telco cloud excels in the following dimensions:
Architecture: Huawei dual-engine container solution complies with ETSI's standard framework. It enables smooth evolution from all paths to containers with one deterministic architecture that counteracts the uncertain evolution pace. Besides this, it accommodates both VMs and containers and allows shared network and storage resources. As such, operators' investments can be fully used while the service rollout time is shortened.
Carrier-grade capabilities: Drawing on key technologies such as a programmable high-performance framework, subhealth detection, cross-layer fault demarcation, and storage bypass, Huawei's PaaS platform enables multi-tenancy, VNF orchestration, high-performance network, and online upgrade, taking carrier-grade cloud native capabilities to the next level.
Management: Huawei uses a unified platform to manage infrastructure with GUI-based orchestration, one-click network deployment, automatic scaling, flexible policy scheduling, and automatic CI/CD. This greatly facilitates network management and O&M.
Market momentum: Huawei actively contributes to standards and open source organizations in the telco cloud field, takes the lead in global business deployment, and works with industry partners to boost virtualization and digital transformation of the industry.
The industry is entering the 5.5G era where new services and scenarios keep emerging. Telco cloud, as the underlying infrastructure, plays a critical role for this. Going forward, Huawei will continue to promote telco cloud evolution and commercial practices oriented to 5.5G, helping global operators accelerate 5.5G service innovation, build competitive advantages, and achieve business success.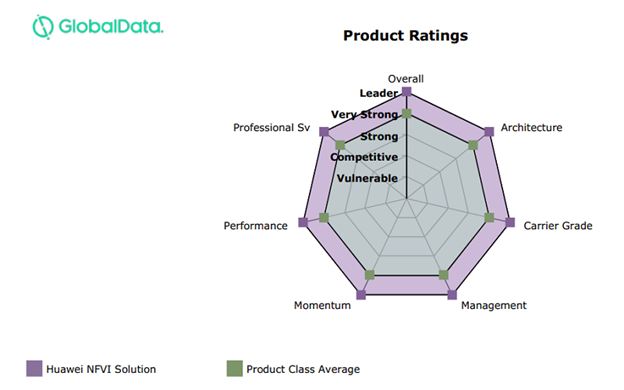 Huawei's telco cloud tops the rankings for four consecutive years with full scores in all dimensions