Huawei's Intelligent Distributed OLTs scores the highest in GlobalData FTTP Competitive Landscape Assessment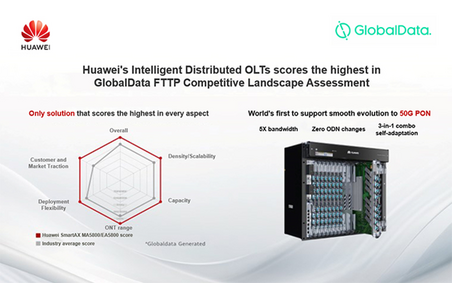 GlobalData, a world-leading consulting company, recently released its FTTP (Fiber to the Premise) Competitive Landscape Assessment. In this report, GlobalData gives high scores to Huawei's SmartAX MA5800/EA5800 series OLT (Optical Line Terminal) products in terms of Customer and Market Traction, Deployment Flexibility, Density/Scalability, Capacity, and ONT Range; and they named Huawei as an FTTP leader, in recognition of its clear competitiveness.
An ICT data analysis and consulting firm, GlobalData provides market research reports, forecasts, and product analyses to the ICT industry. According to GlobalData's FTTP report, the construction of 10G PON has been accelerating worldwide since 2019, and more and more users have been demanding gigabit access to improve network experience. For example, users need HD video to run smoothly on demand, and they need multiple applications to run concurrently without frame freezing. Huawei's SmartAX MA5800/EA5800 series OLT products feature ultra-high throughput and user capacity, end-to-end network slicing, and support smooth evolution to next-generation PON technologies. They can significantly improve user experience with four major upgrades to operator and enterprise networks.
Bandwidth upgrade: In addition to 100GE (Gigabit Ethernet) uplink port on control boards and service boards, Huawei SmartAX MA5800/EA5800 can support symmetric 50G PON service boards in 3-in-1 combo mode. This technology ensures sufficient upstream bandwidth for gigabit services and enables sites to smoothly evolve to 10 gigabits, so resource usage can be maximized.
Digital intelligence upgrade: With unique Fiber Iris technology, each ODN device has an optical ID that the ODN device can be identified by, so the ODN topology can be automatically restored. This makes it possible to accurately restore resource management information as well as detect and locate faults. Hardware faults can be located within 2 meters in 15 minutes or less.
Operation upgrade: Leveraging big data intelligent algorithms, a system can accurately identify and automatically analyze poor quality of experience users, and locate the root causes. The intelligent network perception helps operators and enterprises to streamline the fault location and troubleshooting processes and formulate marketing strategies for potential users, making operations more intelligent.
Low-carbon upgrade: Huawei has developed a 5-level energy saving solution to deliver energy-saving strategies intelligently to different network levels. By adjusting system performance based on traffic levels, the solution can optimize power consumption and visualize power efficiency on the Network Management System, facilitating low-carbon operations of operators and enterprises.
Huawei's intelligent distributed OLTs enable operators and enterprises to quickly deploy FTTP networks and shift from bandwidth monetization to experience monetization. In the future, Huawei will continue to innovate in the optical access field and work with global operators, customers, and partners to bring optical connections to everywhere and build a fully connected, intelligent world.