Newton Lanka assists Domino's with Safe Shoppers program to set up Zero Contact Dine In
Newton Lanka, an extension of Newton TAC Malaysia recently provided Safe Shoppers tool kit for Domino's in a bid to strengthen the Zero Contact experience for Dine-In. The campaign was launched as part of the Newton's Safe Shoppers program considering the reluctance shown by customers to dine at restaurants and cafes due to safety concerns and focusing on the safety of walk-in customers post-COVID 19.
Domino's has launched Zero Contact Delivery and Takeaway and extended the same concept for Dine-In with safety and fun. Domino's roped in Newton Lanka to further strengthen the Zero Contact Dine-In experience for walk-in customers. Newton Lanka with its Safe Shoppers program introduced a number of creative solutions ensuring an enjoyable and safer outing for those who dine in at Domino's.
Some of the measures introduced were displaying of safety protocols through cheesy messages, which is a more casual way of creating awareness rather than instructing. Newton Lanka also installed an elbow door handle to assist in door opening, which further minimizes physical contact. The company also ensured that the customers keep the 1m distance with cheesy floor stickers to help them understand where they need to be while waiting to order food. Another innovative measure was to display a ''just sanitized'' tag in the tables which are regularly being sterilized. Newton Lanka also created a welcome video to help the customers understand the new safety protocols and to ensure that they can dine in safely.
"We consider safety as a top priority in providing a conducive space for our customers to enjoy their best moments with Domino's. So we launched the Safe Shoppers program, which creatively mixes being safe while experiencing fun times in the safest way possible." shared Reshad Mohideen, Director at Newton Lanka.
''As the COVID 19 pandemic caused major setbacks to brands, we felt it was our responsibility to help improve the way brands interact with shoppers in-store be it shopping, dining or any other industry, thereby supporting the brands to engage seamlessly with them. We hope that our Safe Shoppers program will also encourage other brands to implement necessary measures to safeguard the customers.'' Reshad further added.
Safe Shoppers program is one that offers creative solutions to brands in order to help them create a favorable environment for the shoppers. Being an agency driven by finding solutions to the common problems faced by brands, Newton Lanka continues to offer creative solutions helping brands build long lasting relationships with shoppers.
Iranga Dharmawardhana, Country Manager for Jubilant FoodWorks Lanka said, "Domino's is committed to creating the safest possible environment for all our customers and therefore we wanted to extend our Zero Contact Delivery and Takeaway commitment to the Dine-In offering as well. We shared this brief with Newton Lanka to execute the Zero Contact Dine In concept for the first time in Sri Lanka. We admire the quality of work delivered by them with their Safe Shoppers program"
Newton Lanka offers solutions ranging from shopper marketing, in-store Activations, Social and Digital Media Marketing, Print, TV and Packaging for their clients. The agency has been operating in Sri Lanka since 2016 and handles brands such as Hemas, Domino's, LB Finance, Keells Food Products, Ninewells and Sri Lankan Airlines. Newton has also embarked on global projects across Indonesia, Malaysia and India and strives to innovate the industry through groundbreaking, heartfelt and creative advertising with the usage of new technology and effective storytelling.
Photo Caption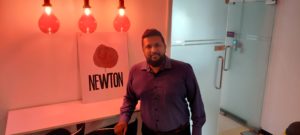 1. Director Newton Lanka Reshad Mohideen