Hatch 'Open House' mentorship program supported 50+ startups in Sri Lanka
Hatch launched "Open House" a free mentorship program that connects mentors with startup founders to provide guidance and insight to grow their startups. Since the outbreak of the pandemic, Hatch began offering its services online, one of which is the Hatch Open House mentorship program.
Through Open House program, Hatch facilitates virtual sessions that connect mentors with the startups that need support. Each one-on-one session may go up to one or more hours with the founder and mentor going over a specific business problem in detail. Hatch follows up with mentees to ensure that they work on their pain points constantly to get measurable results. Despite the pandemic, Hatch Open House program has supported 54 founders with their startups and has had 104 sessions since it was launched in March 2020. This year's Open house program is an upgraded version of last year's with more mentors and a more structured approach to achieve measurable results.
The startups that received mentorship ranged from construction, technology, fintech and financial services, hospitality, advertising and communications, fashion and apparel, and event management.
"I rebranded the business and changed the marketing strategy which resulted in the increase of volunteers to 100!" says Harsha Abeygunasekara of help.lk which is an online platform to help students with their studies by connecting volunteer tutors.
"We set up better ways to communicate with our customers through Instagram and began the development of our website for a quicker purchasing process. We also improved our brand guidelines to stay true to our vision and ensure that we are perceived appropriately by our target market," says Zainab Miskin who runs Lilac Kuküns, a curated gifting service based in Colombo.
"As a fintech startup, we gained valuable insights about emerging markets and optimizing our growth strategy to pivot from our initial business strategy," says Kalana Meneripitiya, CEO of Fipbox, another mentee who benefitted from the program.
Business mentors have as much to gain from mentorship as their mentees. "I've met some deeply passionate founders pre, during and post COVID, and it's inspiring to see such enthusiasm and drive for their ideas," says Geethal Fernando who likes being able to help companies with commercialization and sales, especially during the pandemic as many startups were stuck without knowing what to do next. Startups are strong in some aspects, but with the pandemic, their weak points were magnified. The founders needed quick adjustments and changes for their business models to stay afloat. Geethal, who is an enterprise solution sales specialist, emphasizes on the importance of offering outcome-driven guidance and actionable help as opposed to just advice. "The agility of startups; in the way that we can talk about something today and make it happen tomorrow is very exciting," adds Geethal who says that this speed invites a lot of potential that is not seen in corporate structures.    

"It is spiritually fulfilling for me to share what I know. When you share, you learn more too," says mentor Sandun Fernando who is a business management consultant and a corporate trainer. "I meet so many talented people through this program and get to share insights with them. I consider it a great opportunity to learn more," adds Sandun.
"As a business consultant and entrepreneur myself, mentoring has allowed me to continuously immerse myself in South Asia's business dynamic while giving back to the community by sharing different perspectives from across the ocean," says Sara Steffensen, Managing Director at Coral Banks. "The diversity of enterprises and the resilience of mentees is amazing. We discussed new ideas, built on top of other ideas and suggested frameworks. It is always a delight to be able to inspire others," adds Sara who has been a mentor for Hatch since last year.

Mentor Shanuki de Alwis who is a brand purpose consultant, skills coach and a speaker says "This has been an excellent way for me to provide customised individual guidance. I've gained a lot of insights by working with a variety of startups and being exposed to their business models. It's very fulfilling to be able to provide mentorship and share my own experiences to help founders while taking notes from them for my growth as well,"
"Since the sessions are virtual, I felt that more startups could take part in them. Each week, I'd get to speak with a new founder and it's great to learn about new trends in each industry. I also get exposed to many industries and it's fascinating to learn how these startups are solving problems in each of these industries," says mentor Joe Lenora, Founder of We Are Designers, a creative design agency providing digital solutions.
Mentorship fosters collaborative learning, and more importantly, gives the founder honest and realistic expectations of the business journey. Most startups need specific information and expert advice to make efficient decisions for their business. Access to helpful insights from a mentor with experience, especially in a specific industry can make a world of difference to the founder. Additionally, professional business guidance is expensive, and many startups can't afford it but mentorship programs such as Open House enable this benefit for startups
Mentors are integral to a founder's success because they provide different opinions and insights, and are part of a helpful community that creates valuable connections. The 25 mentors featured in Open House are experts from diverse fields such as IT, fintech, apparel, advertising and communications, hospitality, retail, services, HR, and legal. These mentors are part of the Hatch Mentor Network and they bring in experience from a local as well as international context with some mentors residing in the US, Singapore, Germany and Qatar as well. They volunteered their time, effort, and expertise for the benefit of the founders and the larger startup community in Sri Lanka.
Mentorship programs inspire new ideas, build connections, and spark conversations. Mentors gain a deep understanding of how founders solve problems creatively while founders learn from the experience of mentors. Mentorship programs are, therefore, a win-win for everyone in the startup ecosystem.
As a hub of all things startups and a creative space for work, Hatch aims to transform the business culture in Sri Lanka. Hatch expanded its network for businesses to thrive together as a community by providing genuine opportunities for entrepreneurs to experiment ideas, acquire knowledge and share lessons. Since Hatch officially opened its doors two years ago, it held over 1000 curated knowledge-sharing workshops, hackathons, and creative events with 500+ hatchers lovingly referring to it as their home for ventures and startups.
More details about the Open House program can be obtained by writing to [email protected]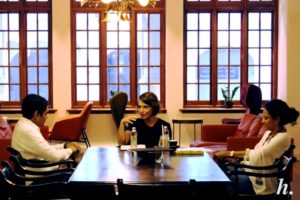 Photo Caption
Mentoring session prior to COVID 19