HUAWEI Y6p coming at 30,499.00 LKR with 4GB RAM + 64GB Large Storage
Setting a new benchmark for entry-level smartphones, Huawei, the innovative smartphone manufacturer, recently launched Huawei Y6p featuring 4GB RAM + 64GB ROM. Huawei Y6p is considered as the benchmark of smartphone in its price range to offer a standard 4GB RAM + 64GB ROM in the current smartphone market.
It's 64GB ROM offers ample storage capabilities even after the memory consumed by the system itself. Besides the memory consumed by the system, it offers around 55GB to be used to store photos, video, files and apps and that is more than enough for every day usage. The 64GB storage means users can install all their essential apps and store files and the addition of 4GB RAM brings a seamless smartphone experience without any lagging or slowing issues. Its 4GB RAM is ideal for multi-tasking as it helps to load and run apps smoothly.
In addition, HUAWEI Y6p taps into Huawei's advancements in software and applies the EROFS technology in order to create additional storage for the phone. EROFS is capable of releasing an extra storage that can store up to 1000 pictures for users! With the use of hardware and software synergy, HUAWEI Y6p outperforms its competitors featuring the same RAM and storage, but which do not use EROFS technology.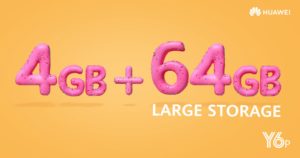 Huawei Y6p comes with the pre-installed Huawei AppGallery, which has grown into a wider app ecosystem with almost all the popular apps now featured in it. Huawei AppGallery offers apps and games from a wide range of categories that users can easily explore and download to their Huawei smartphones.
The App Gallery has introduced another innovative tool offering the Find Apps search widget powered by Petal Search. Find Apps search widget is a new way of finding your favorite apps and get them downloaded to your device. It is a gateway for millions of apps and users can easily download the Find Apps search widget from the Huawei app gallery. This search widget also provides recommendations as to where you can download your favorite apps including the sources. It also accommodates the option of adding a widget to the home screen of your smartphone which enables you to easily search apps.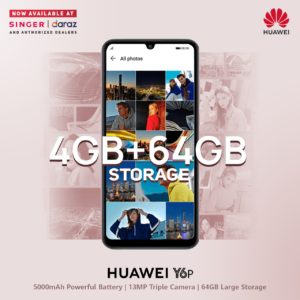 Huawei Y6p features a 6.3 inch dewdrop display offering a wide an immersive viewing experience. It is powered with a long lasting 5000mAh battery which allows users to get all the tasks done continuously without requiring frequent charging. Huawei Y6p comes in phantom purple, emerald green and midnight black colors and is available in Sri Lanka for an amazing introductory price of Rs. 30,499.
Huawei Y5p was introduced in parallel to Y6p and as an entry level smartphone, it also promises an optimal smartphone experience with its 2GB RAM + 32GB storage. The 5.45-inch smartphone features a 3020mAh battery, which is capable of getting through the daily tasks even with heavy usage. This compact device is available in three refreshing colors such as midnight black, phantom blue and mint green and is priced at Rs. 18,999.