Autogroup International steers into 25 years in conversion and re-manufacture of high-value American vehicles
People around the world cherish US manufactured SUV's and Pick-up trucks for their premium look and features coupled with the ample spaciousness which is a key for travelling purposes. But most of these vehicles are unfortunately designed for left-hand driving which does not pertain with rules and regulations in most other regions. People who are used to right-hand driving usually convert their vehicles from the few available international companies specializing in vehicle conversion. Autogroup International is one such company and the first of its kind in the world to convert a 2020 Lincoln Navigator to a right-hand drive.
Autogroup International is a fully Australian owned BOI approved company specializing in automobile conversions with offices in Dallas, USA and Melbourne, Australia. The company celebrates 25 years of international presence in 2020 as a global leader in conversion and re-manufacture of high-value American vehicles from left to right-hand drive. After a few years of its inception, Autogroup expanded its wings to Sri Lanka and the fully-fledged facility situated in Kaduwela provides a top-notch service in vehicle conversion with industry leading expertise. At present, the company exports left to right hand drive converted vehicles to countries such as India, United Kingdom, Indonesia, South Africa and Malaysia while 90% of company's output goes to Australia. The company is Australian Design Rules (ADR) compliant, a motor vehicle standard accepted by The Commonwealth and most other right-hand drive markets.
 ''We at Autogroup act as a turnkey operation where customers can purchase a vehicle from us or they can convert their vehicles bought from other suppliers while we take care of the entire process from shipments to insurance, loading or unloading the vehicles to ports around the world. We prioritize safety as well as the overall design  to provide an unmatched service to our customers and our highly skilled workforce make it possible for us to sustain the level of ingenuity.'' said Peter Norman Hill – Chairman/Founder of Autogroup International.
"Converting a vehicle is a daunting task and it involves a lot of planning, R&D, new manufacturing processes such as 3D printing and lots of new ideas – we encourage it all the time. Major changes include dashboard – 100% manufactured in Sri Lanka, currently transitioning to plastic injection molding, steering rack, HVAC system and the ergonomics of the relationship with the driver – seat, steering wheel, pedals, gear shifter etc. Safety systems are a critical aspect, which need to be properly re-fitted and re-calibrated for their effective operation. The vehicle's electronic system also requires major tweaks such as lane departure, collision alert, auto park, heads-up-display (HUD), keyless entry, seat memory, seat heating, screen controls and on-screen menus. A skilled work force and a highly qualified engineering team take care of the whole process to bring out a product of international standard. We are geared to convert the latest 2020/21 models, which have also opened-up a new market opportunity for us" commented Chamath Tennekoon – Managing Director of Autogroup International, Sri Lanka
Autogroup is an ISO certified company which is also approved by the BOI. Being an industry leader, the company specializes in conversion of all types of American vehicles from cars, Pickup trucks and SUV's including Chevrolet Silverado, Chevrolet Camaro, GMC Sierra, Dodge Ram, Ford Raptor, Cadillac Escalade, Lincoln Navigator and many more. Autogroup collaborates with brands such as Chevrolet, GMC, Cadillac, Hummer, Dodge, Ford, Lincoln, Toyota and Nissan.
Ends.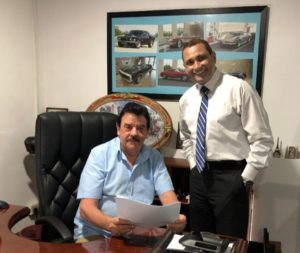 Photo Captions
Right Hand Converted 2020 Model Lincoln Navigator
Right Hand Converted Dashboard