Huawei Nova 7i and Huawei FreeBuds 3 combination offers more space for Entertainment and Productivity
Huawei, the innovative smartphone manufacturer, constantly equips its product portfolio with highly efficient and productive devices. Huawei Nova 7i and Huawei FreeBuds 3 are two such devices which revolutionized the Sri Lankan market recently. Nova 7i is a stylish mid-ranger to hit the market for an affordable price while FreeBuds 3 comes in as Huawei's answer to true wireless ear buds.
When a feature-packed Nova 7i meets a more comfortable and steady wearable piece of ear buds, smartphone users have all they need to immerse in entertainment or focus deeply on any task at hand without any interruption. Be it for listening to music, playing games with amplified sounds, answering a call amid the clutter of a noisy environment or attending to an important conference call, Huawei Nova7i and FreeBuds 3 combination gets all of these tasks done seamlessly.
Connecting Huawei Nova 7i with FreeBuds 3 is easier as it gets, with just one click in the initial pairing and subsequent pairing happens automatically.
The 6.4 inch Nova 7i has a full HD screen that provides a smooth viewing experience for watching videos and playing games. Nova 7i gets the processing power from a Kirin 810 chipset with 8GB of RAM backed by 128 GB internal storage which is ideal for playing even the most demanding games which absorb a lot of power. The gaming power of Nova 7i coupled with dipping sounds of FreeBuds 3 provides a high quality gaming experience.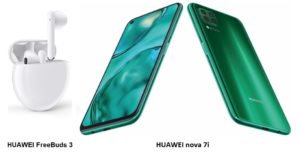 ''Huawei Nova 7i and FreeBuds 3 are a combination that promises both efficiency and entertainment on the go. Huawei has made possible that a combination of Huawei devices can improve the user experience, so that they can stick with us for all their tech-related requirements. Technology is basically for simplifying the everyday tasks and bringing peace and serenity for the busy lives. We are on course for the exact purpose.'' commented Peter Liu, Country Head of Huawei Devices, Sri Lanka.
Nova 7i incorporates Histen sound technology which provides an advanced audio experience and its built-in equalizer also assists in tuning the music to suit the users. In addition, the Freebuds 3, with its integrated bass, is all that music lovers need to listen to music for longer hours.
When it comes to answering calls while driving or walking, Huawei FreeBuds 3 assists the users with its convenient dolphin bionic design. Now users no longer need to be worried of the bulky wires and they can answer calls while engaged in any other task without picking the phone.
Its noise cancellation feature allows users to connect with conference calls without moving in search of a silent place. Its top notch audio processor delivers precise environment noise reduction which enables users to stay focused on music or calls in a crowded space or a noisy environment. FreeBuds 3 is capable of operating for 20 hours at a stretch which enables users to wear it throughout the day. Charging the Huawei FreeBuds 3 is easier with few options to choose from – traditional USB Type-C charging set or laying down the carrying case on a wireless charging mat and users can also use a Huawei smartphone for reverse charging.
Huawei Nova 7i and Huawei FreeBuds 3 are available to purchase at all Huawei Experience shops, Singer outlets and are available to order from Daraz.lk.