Huawei MateBook D15 and MateBook 13 optimize productivity with a pack of innovative features
By Vidura Prabhath
Huawei, the innovative smartphone manufacturer, recently marked its footprint in the laptop arena with the launch of Huawei MateBook D15 and Matebook 13. Both the laptops are not just aesthetically designed showpieces; they offer many more to admire including the innovative features that optimize productivity and efficiency. Features like Huawei share and multi-screen collaboration make them productivity power houses and devices that conceive the smart office concept.
Huawei MateBook D 15 has a stunning metallic finish with thin bezels and an 87% screen to body ratio. It weighs only 1.62kg including the HDD and its thickness is 16.95mm making it a highly portable and lite device. MateBook D 15 comes with 15.6 inches full view screen which is a full HD IPS panel and its color temperature controller feature includes an eye comfort mode which is ideal for heavy usage. The laptop is powered with an advanced AMD Ryzen 5 3500U processor which accelerates and enhances performance.
An incredibly powerful device, Huawei MateBook 13 will light up Huawei's laptop range with its innovative features, adding more versatility to professional tasks. The 13-inch ultra slim laptop comes with a 88% screen-to-body-ratio bringing to life an immersive viewing experience.
Both laptops support Huawei's unique multi-screen collaboration feature which is designed to enhance the user experience of Huawei PC devices. It allows users to mirror the smartphone screen on the laptop making it easier to focus on work at hand without being disturbed by smartphone notifications and be in the comfort of using a single device with its capabilities such as drag and drop files between the two devices.
''Huawei MateBook D15 and Matebook 13 will be the biggest surprises in our laptop segment as they are inclusive of all the state of the art specifications needed to improve productivity. Whether working from home or at the workplace, the innovative features of these laptops will always provide a lifeline to the demanding work schedules. These innovative features not only assist in the professional life, they are also useful when travelling, staying connected with loved ones and spending time with friends'' said Peter Liu, Country Head of Huawei Devices, Sri Lanka.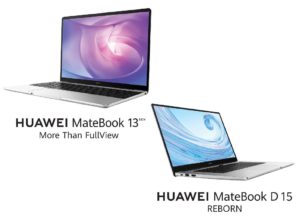 Multi-screen collaboration feature lets you answer calls or reply to messages from the laptop screen when you are concentrating on an important task. You don't need to pick up the smartphone to answer or make calls or text message; you can just concentrate on your office tasks while calls and text messages will display on the laptop screen.
Multi-screen collaboration also provides the luxury of navigating the smartphone on a larger screen. The virtual screen allows you to use the mouse to interact with apps and typing is much convenient with the laptop keyboard. Now you can drag and drop files between two devices from the same screen which literally speeds up your tasks at hand. With multi-screen collaboration, you can seamlessly copy and paste text between your laptop and the smartphone which is effective when using notes apps and emails. It also allows you to instantly organize and save all the photos, videos, audio files and other documents in the laptop, so that you can access them from the laptop which is much more comfortable. Most importantly, files being automatically saved in two devices, takes away the worries of losing the files in one device.
Huawei MateBook D15 is priced at LKR. 149999 and the new Matebook 13 comes with Intel and AMD versions and Huawei Matebook 13 Intel will be available at Rs. 224,999 while Huawei MateBook 13 AMD is priced at Rs. 179,999. These laptops are now available through all singer outlets, authorized resellers and is available to purchase online via Daraz.lk