Sri Lanka Institute of Marketing to Restart SLIM DIGIS 2.0
Sri Lanka Institute of Marketing (SLIM), the national body for marketing in Sri Lanka announced the SLIM DIGIS 2020, the most coveted digital awards ceremony in a revolutionary online press conference graced by a distinguished panel consisting of; Mr. Roshan Fernando – President of SLIM, Mr. Nuwan Gamage – Vice President of SLIM and Project Chairman of SLIM DIGIS 2.0, Ms. Thilanka Abeywardena – Vice president of SLIM, Mr. Tilan Wijeyesekera – Head of Blueprint Committee of SLIM DIGIS 2.0 and Mr. Imal Fonseka – Head of Jury for SLIM DIGIS 2.0 held on 3rd July 2020. SLIM will be restarting its awards ceremonies and DIGIS will be the first event to commence for this year and will be the first event after the COVID-19 pandemic signifying the restart of all other SLIM awards ceremonies. SLIM DIGIS will be hosted for the second consecutive time in a bid to reward the companies, which have significantly contributed to the digital marketing sector in Sri Lanka and to recognize the best digital marketing endeavors.
SLIM DIGIS 2020 will feature two awards categories: main awards category and special awards category whereas the main awards category recognizes the Best Digital Marketing campaigns from a range of categories such as Banking and Finance, Insurance, Telecommunication /IT /Internet, Leisure/ Hospitality/ Travel and Tourism and many more. The latest additions to SLIM DIGIS 2020 will be the international category and the new special awards. Sri Lankan based companies that launched campaigns in other countries are eligible for international category while all other organizations and agencies can directly apply for special awards.
"Digital marketing is one of the key aspects of marketing which many around the world are adopting at present. It plays a pivotal role fueling the companies to reach their targets with innovative tools to dominate the digital marketing sphere. As an industry leader, SLIM has identified the need to recognize companies, which empower the Digital marketing sector not just locally, but reaching beyond that to launch digital initiatives of global standards. We have successfully completed one phase of this awards ceremony and the second will no doubt be spectacular." shared by Mr. Roshan Fernando – President of SLIM.
The new special awards will be; Best SEO/SEM Campaign, Best Use of Technology in marketing, Best Performance Marketing Campaign, Best Use of Content Platforms, Best Use of Experiential Digital Marketing, Best Small Business Digital Marketing Campaign – Non Digital Business and Digital Brand Bravery Award. The winners will be awarded Gold, Silver and Bronze while the Grand Prix will be awarded to the enterprise, which achieves the highest score in both the main awards category and the special awards category.
''We are excited to roll out these new awards recognizing the extraordinary initiatives spearheaded by our very own Sri Lankan companies in the sphere of digital marketing. We, as leaders in the field of marketing in Sri Lanka feel that it is our duty to recognize and give prominence to these achievements in the hope that it will motivate these companies and their employees to innovate further and continue coming up with groundbreaking ideas'' said Mr. Nuwan Gamage – Project Chairman of SLIM DIGIS 2.0 
SLIM DIGIS 2020 will engage an independent judging panel which will be reviewing the Digital campaigns presented by the companies. This edition offers a new entry reel time limit setting it to 5 minutes or less than 5 minutes. All the contestants must showcase at least one comprehensive example of each integral communications touch point and additional examples are also encouraged to help judges in the evaluation process.
The Sri Lanka Institute of Marketing (SLIM) is the apex body for Sri Lankan Marketers, which was founded in 1970 and subsequently incorporated by an act of Parliament in 1980, recognizing it as the National Body for Marketing and a 'not-for-profit' organization. SLIM has been promoting marketing excellence and elevating the status of marketing in Sri Lanka since its inception in 1970. In addition, SLIM is the host and also the principal partner in Sri Lanka's most acclaimed and reputed awards ceremonies such as SLIM Nielsen Peoples awards, Brands Excellence, NASCO and Effie awards.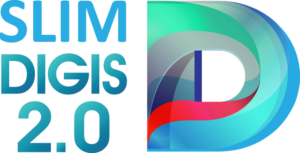 ENDS