Pyxle International and Trabeya announce merger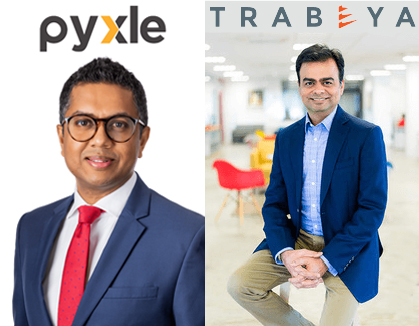 Combined entity will have the leadership, resources and scale to successfully capitalize on opportunities in the fast-growing data industry.
Merged capabilities will create a single comprehensive and fully integrated platform, from digital strategy, software engineering, data management and integration, to deep analytics with artificial intelligence tools, ensuring a complete solution to be delivered to customers.
Founder and current Chairman of Pyxle, Presantha Jayamaha to exit post-merger
Pyxle, a global digital consultancy based out of Sri Lanka which helps middle market companies accelerate their digital transformation journey, today announced that it has reached an agreement to merge with Trabeya, an advanced data analytics and artificial intelligence products and solutions company serving a global customer base, with its operational team out of Sri Lanka and its headquarters in Singapore. The combination of these two entities creates a leader in the data industry with the management, capabilities, resources and scale to successfully capitalize on the opportunities in this field.
Pyxle accelerates digital transformations for businesses with its holistic assessment of their current and desired digital roadmap and digital maturity, and thereafter outlines and implements an optimal data solution with product innovation and engineering, hosting, cloud and technology operations, robotic process automation, as well as systems integration. Trabeya enables businesses to make effective decisions quickly with its data-driven machine intelligence solutions. Springboard, its cloud-based platform, seamlessly integrates plug-and-play tools, including proprietary artificial intelligence products, in to existing business workflows to achieve real-time analytics to enhance performance.
The merger of both companies creates a comprehensive offering all on one platform, that delivers digital strategy planning and systems integration, data management and visualizations, and deep analytics powered by proprietary artificial intelligence tools, to enable a smooth and fully integrated customer experience to better serve business needs.
"We are thrilled to bring together our complementary offerings to further advance our customers' experience at every stage of their digital journey," said Presantha Jayamaha, Founder, Chairman and Executive Director of Pyxle. "This strategic merger provides us with the opportunity to enter a promising new era, to leverage our combined core competencies in digital strategy as well as data analytics and artificial intelligence. We see huge potential to create a turn-key experience for our customers, which will give our employees the opportunity to have an even greater impact on the businesses that we work with."
The combined teams bring deep knowledge and insights in their respective domains, and the entities have aggregated a highly global customer and partner network, including being a certified Microsoft Gold partner.
"We have worked very closely with Pyxle over the last few years, and our engagement has deepened and grown in scope. This merger presents an important milestone in cementing our strong relationship, and our joint capabilities will create significant synergies. We are immensely excited about the future," said Sanjay Popat, CEO of Trabeya.
Post the strategic merger, Presantha Jayamaha will step down from his role as Chairman and Executive Director of Pyxle, paving the way for younger leadership in the Group to ascend. Presantha was instrumental in building Pyxle over 17 years and played a vital role in its trajectory. He will be divesting his stake to current shareholder Tavistock Group, an international private investment organization.
"I have led Pyxle as Founder-CEO, and then Chairman, through private equity investment, growth, and change through many cycles over the last 17 years. The opportunities before us, with this merger, are very exciting but, as for me, it is the right time to let a new team take the combined business further and release more value" said Presantha.
The benefits of the transaction are:
Expansion of offerings all on a single comprehensive platform, Springboard, from digital strategy planning and systems integration, data management and visualizations, and deep analytics powered by proprietary artificial intelligence tools, to support the customer's entire digital journey
Combining both companies' extensive and growing capabilities to enhance customer satisfaction through a complete solution offering
Excellent working relationship between the two management teams which share successful track records globally
Strong support of long-term and mutual shareholder, Tavistock
Become a leading incubator for innovative technology and top talent in Sri Lanka, and provide accelerated growth opportunities to combined employee base
Popat concluded, "We very much look forward to welcoming both companies' employees into our combined vision and are enthused about the new opportunities that we can jointly pursue together."
Photo Caption
Pyxle Founder and Chairman and Executive Director Presantha Jayamaha and Trabeya CEO Sanjay Popat
About Pyxle International (Private) Limited
Pyxle is a global digital consultancy helping middle market companies accelerate their digital business transformation on a continuous and sustained basis. Its mission is to "Ignite Digital Performance" and unlock the value of organizations' digital innovation and business transformation investments, driving sustainable growth in an ever-changing world. With operations in North America, Europe, and Asia, Pyxle is part of the Tavistock Group, an international private investment organization, and is a Microsoft Gold Partner. For more information, please visit its website at www.pyxle.io
About Trabeya Pte Ltd
Trabeya is an advanced data analytics and AI products and services company, serving a global customer base. Trabeya combines people, processes and technology to enhance human intelligence with worldclass, data-driven, machine intelligence solutions for businesses to make effective decisions in real-time with its proprietary platform, Springboard. The company has offices in US, Singapore, and Sri Lanka, and is a portfolio company of the Tavistock Group, an international private investment organization. For more information, please visit its website at www.trabeya.com