Huawei to launch Huawei Y6p in Sri Lanka featuring 4GB RAM + 64GB of storage
By Vidura Prabhath
Huawei, the innovative smartphone manufacturer, will be rolling out the all-new Huawei Y6p in Sri Lanka this month. This entry-level smartphone is speculated to come with a flagship rivalling 4GB RAM + 64GB of storage. With features such as triple camera setup, 5000mAh battery, enhanced storage and performance, the Huawei Y6p will be in the spotlight in the coming months.
Huawei Y6p will incorporate a 6.3 inch dewdrop display with the selfie camera embedded into the notch. The triple camera setup will consist of a 13mp main camera, 5mp ultra-wide camera and a 2mp depth camera. This triple camera combination takes this entry-level device to the next level considering that many budget smartphones usually come in two rear cameras.
With recent innovations in technology, smartphones receive constant upgrades to mobile chipsets, CMOS sensor and other core components. But battery life remains a major concern as smartphone manufacturers continue to stick with 3000mAh to 4000mAh battery capacities. Ringing in an extended battery life to suit the modern day requirements, Huawei Y6p is equipped with a 5000mAh battery, which is more than enough to get through the day even with a heavy usage.
While most of the entry-level smartphones resorting to a 3GB RAM + 32GB ROM combination, Huawei will be catering to the storage issues faced by users with the 64GB of in-built storage in the Huawei Y6p. Its 4GB RAM will provide a smoother user experience when playing heavy-loaded games or when multi-tasking. Backed by these features, Huawei Y6p could be one of the most powerful smartphones in the budget range.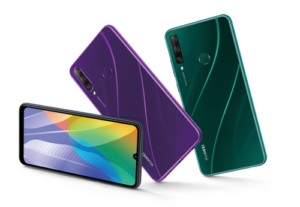 ''A 4GB RAM + 64GB of storage is a rarity for an entry-level smartphone. We will be unveiling an entry-level smartphone that emulates these flagship features and that is the Huawei Y6p. As a leading smartphone manufacturer, we need to pay attention to varied budget levels that customers are comfortable with or willing to purchase smartphones at. We also need to make sure that each person has access to latest technologies in this digital era.'' commented Peter Liu, Country Head of Huawei Devices, Sri Lanka.
Huawei is constantly unveiling feature-packed smartphones catering to the varying budgets, which help them to be on par in the evolving smartphone market.
Huawei Y6p will be available in phantom purple, emerald green and midnight black, crafted in a stunning, sophisticated design. As in the case of previous Y series models, Huawei will be launching the Y6p for an attractive introductory price.