Huawei Service Mid-year Fiesta launched
Huawei, the innovative smartphone manufacturer, launched ''Huawei Service Mid-year Fiesta'' to be held   from 1st June till 31st July 2020. Huawei offers special discounts for smartphone repairs and also complimentary gifts throughout the fiesta to encourage users who are eagerly waiting to get their smart devices repaired.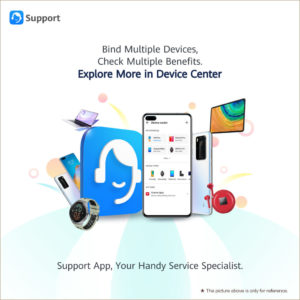 A 20% discount on Huawei original spare parts for selected Huawei smartphones will be provided and all walk-in customers for the Huawei service centers during this period will avail a free screen protective film along with many more gifts. Smartphone repairs will be carried out by Huawei certified mobile engineers and Huawei is also pleased to announce a free three months warranty for all repairs.
Further expanding the reliefs on its services, Huawei will be offering special discounts on battery replacements and all these offers are rolled out in a bid to provide a new life to old smartphones.
''Huawei Service Mid-year Fiesta is a much awaited mid-year offer that comes with a host of benefits and offers to enhance user experience. The past couple of months deprived users of reaching out to Huawei service centers and now as the situation is returning to normalcy, users can easily walk in to service centers and get their smartphones repaired and also avail our exciting offers.'' commented Peter Liu, Country Head of Huawei Devices, Sri Lanka.
''In the absence of physical accessibility to service centers, Huawei support app and its innovative features have facilitated thousands of people and we are constantly improving the app to further expand remote support services. Its Device center is a comprehensive solution for any user with multiple Huawei devices'', he further added.
Huawei recently re-launched the latest version of Huawei Support App with many innovative features such as the Device center, online troubleshooting, smart diagnosis, locating service centers and spare parts prices. This inbuilt app also features an innovative option to monitor repair progress. Now users don't need to contact service centers and worry about the repair status as Huawei support app provides the repair progress once the users enter the serial number of the smartphone in the dedicated repair progress section.
Huawei Device center allows users to conveniently manage multiple Huawei devices from smartphones to tablets, smart watches and laptops within a single space. Device center provides useful details about device parameters, benefits and warranty. It also includes a ''Help'' option to solve common smartphone issues such as recovering screen color distortion, minimizing power consumption and enhancing photos, via tips and tutorials.
Simply showing the barcode in the device details at a Huawei service center is now adequate for the staff to immediately attend to your requirement. The users can go to the Support app, select Me> My Devices, enter Device Center, tap on the + icon on the top right corner and easily add devices to the device center. There is also an option to scan the barcode on the device or the QR code displayed on the app to add devices.