Huawei Kicks Off 2023 Seeds for the Future Program for Global University Students
The eighth 'Seeds for the Future' program began in Sri Lanka on September 13, 2023, with four outstanding students from three state universities in Sri Lanka participating this year.
The students are from the Universities of Jaffna, Kelaniya, and Colombo. The ceremony was held at the Huawei Sri Lanka local office in Colombo 1 with the participation of Minister of Higher Education Dr. Suren Raghavan as the Chief guest.
Dr. Suren Raghavan, State Minister of Higher Education, said during the launch ceremony, "Seeing the young talents who come from areas where the 30 year civil war was aggravated, and now these opportunities are open for them, and they getting selected to such prominent program is something that I am personally happy about"
While putting his faith in the four seeds who embarked on an ICT learning journey to China, he emphasised that Huawei is sowing these seeds for the future using the fine tone, and he anticipates that Huawei is actively investing in undergraduates Huawei to be involved in the state digitalization program.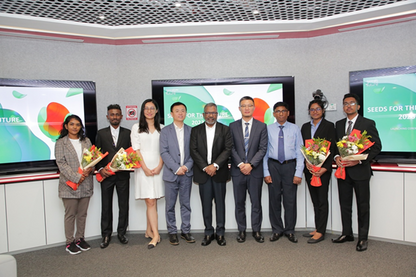 "Huawei's involvement in upskilling local talent has been remarkable since 2016, and it is now time for us to extend our invitation to Huawei to collaborate with the government's digitalization plan. Aside from that, I am overjoyed to be here and witness these students' achievements. It should be noted that there are a large number of students who are worried that they were not selected to participate in the golden opportunity," he said.
This year's Seeds for the Future launching ceremony was significant because Huawei invited two young Maldivians to collaborate with four young Sri Lankan students to show the Asia Pacific Region and the world the talents that the two countries possess.
Meanwhile, Huawei Sri Lanka CEO Tao Guangyao shared his thoughts on the program and extended his messages to the seeds, saying, "We at Huawei are always committed to upskilling and improving the competitiveness of university youth, and more young talent means a brighter future for Sri Lanka, which makes me very happy.
What I would like to ask students who are about to embark on their journey to China is to view the opportunity to visit Huawei University, R&D base, and other significant places related to Huawei as a golden opportunity. Visit the locations to gain valuable knowledge, then return to Sri Lanka to put that knowledge to use in paving the way for Sri Lanka's digital future,"
He also said Huawei understands the importance of developing young talent to shape the future. As a result, we are eager to collaborate with academia and industry to bring digital to every person, home, and organization in order to create a fully connected, intelligent world.
This year, the Seeds for the Future program provided an 8-day intensive training session, including cutting-edge ICT technologies, scientific and technological leadership, discussions on global topics and "Tech4Good" group projects. Through learning and mutual exchange, participants gained better understanding of 5G, AI, and cloud technologies, build more strengths for future growth, and improve their competitiveness in the job market.
Image caption
University talents selected for Huawei's Seeds for the Future 2023 with State Minister for Higher Education Dr. Suren Raghavan, Additional Secretary (Development) Rohitha Uduwawala, Huawei Sri Lanka CEO Tao Guangyao, Huawei Public Affairs Director Christophe Lee and Director of the Human Resources Department for Huawei Sri Lanka Chen Mengyuan.
About Seeds for the Future
Since its launch in Thailand in 2008, the Seeds for the Future program has been held in 139 countries and regions worldwide, attracting more than 15,000 students. Digital skills and digital literacy are critical for developing our digital economy, and a strong base of digital talent has proven to be a key driver of both digital transformation and economic growth. The Seeds for the Future program is part of our efforts to equip upcoming digital talent with the digital skills they need to remain competitive in the job market and support the development of enterprises and society as a whole.