Huawei FusionCube Named One of DCIG's Top 5 Enterprise HCI Providers
The Data Center Intelligence Group (DCIG), a globally-leading technology analyst firm, has selected Huawei FusionCube as one of the world's top enterprise hyper-converged infrastructure (HCI) providers in their DCIG 2023-24 Top 5 report. Huawei FusionCube was awarded this title for its simplified and intelligent O&M management, diverse computing ecosystems, and high density and flexible hardware integration.
The DCIG Top 5 report provides comprehensive and detailed analysis and recommendations on products and technologies. It takes into consideration the main factors that influence customer choices when it comes to IT infrastructure, including business benefits, efficiency and O&M.
By including it in their annual report, DCIG believes Huawei FusionCube HCI has advantages in all of these key areas.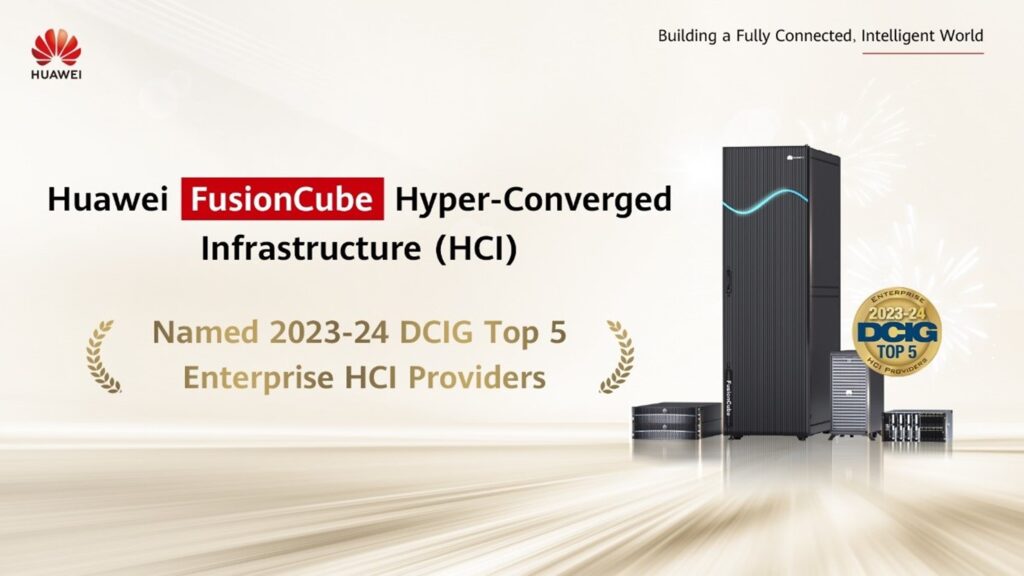 In terms of O&M, Huawei FusionCube HCI uses FusionCube MetaVision and eDME software for unified O&M of compute, storage, and network resources. With one-click deployment, management, maintenance, and upgrade features, FusionCube HCI allows users to utilize intelligent, unattended O&M services. FusionCube HCI comes with its software and hardware pre-integrated so that IT infrastructure can be initialized in one step with a single automation tool. FusionCube HCI also supports cloud transformation. Combined with Huawei's Datacenter Virtualization Solution (DCS), it helps customers build a more lightweight, elastic, resilient, and reliable cloud foundation that supports intelligent management and diverse ecosystems.
When it comes to full-stack ecosystem construction, the FusionCube HCI lineup actively embraces diverse computing ecosystems. For example, FusionCube 1000 supports both Arm and x86 hardware in a same storage pool for unified management. FusionCube A3000 is a training/inference HCI appliance tailored for foundation model training and inference in multiple industries, and it features easy deployment and one-stop delivery.
The FusionCube lineup also excels in hardware integration. For example, FusionCube 500 integrates core data center components, such as compute, storage, and network modules, in just a 5 U space. It allows for an on-demand configuration ratio of compute nodes to storage disks, reducing footprints by 54% compared to ordinary deployment modes in the industry. The 492-mm device depth is appropriate for cabinet deployment in standard equipment rooms. And it can connect to 220 V mains power for deployment in edge scenarios such as toll gates and offices.
Huawei has been a key player in the HCI market since its inception, and has served more than 5,000 HCI customers around the world in various industries, including energy, finance, public utilities, education, healthcare, and coal mining. Huawei has stated that it will continue to pursue breakthroughs in HCI to continuously improve the capabilities of its innovative products, facilitate its customers' digital transformation, and serve as a driving force behind enterprise cloudification.
For details about the DCIG 2023-24 Top 5 Enterprise HCI Providers report, please visit https://e.huawei.com/en/material/enterprise/b343926b49754994b54e4e645577dcb1
Image :- Huawei FusionCube Named 2023-24 DCIG Top 5 Enterprise HCI Providers