Durdans Eye Care Unit Equipped with latest Technology of ZEISS OPMI Lumera 700
Continuing its journey of introducing latest technologies to the local healthcare sector, DIMO Medical Engineering team successfully completed installation of world-class ZEISS OPMI Lumera 700 surgical microscope at Durdans Hospital Colombo, to further strengthen facilities at the eye care unit of the hospital.
ZEISS OPMI Lumera 700 is a surgical microscope used to enhance the capabilities of an ophthalmology department. It is specially manufactured to use in cataract and retinal surgeries and enables clearer visualization and thereby delivers excellent clinical outcomes. With this latest surgical microscope, medical practitioners can experience superb clarity and gain critical insights during procedures, enabling them to make well-informed decisions.
Surgical microscopes need to constantly evolve to keep abreast of innovations in surgical techniques, better meet patient expectations and lower the costs of running an operating theatre. The ZEISS OPMI Lumera 700, with its customized integration, provides the best solution for these concerns. It combines a high-quality basic configuration with extensive options providing doctors with a versatile system and an optimized toolkit.
Wijith Pushpawela, Executive Director of DIMO stated "Now Sri Lanka can experience outstanding treatments with one of the most advanced ophthalmic technologies in the world at Durdans Hospital, Colombo. In the field of medical engineering, the technology constantly evolves and it is imperative to introduce latest technologies to the healthcare sector. DIMO is always in the forefront of bringing world-class technological solutions to Sri Lanka and is proud to connect Durdans Hospital with the latest medical engineering technologies to uplift the quality of treatments provided to all Sri Lankans."
Discussing the landmark achievement, Director – Medical Services at Durdans Hospital, Dr. Harsha Baranage stated that the ophthalmology centre of excellence at Durdans Hospital is constantly working to push the frontiers of precision-based care. "We invest in the best technology to help the world-renowned surgeons working at our centre achieve the best possible health outcomes," he said.
Elaborating on the special features of the microscope, he said that it had features such as integrated recording, Keratoscope attachment and an integrated monitor that are presently unavailable in other competitive surgical microscopes in the country.
With the Stereo Coaxial Illumination (SCI) for constant brilliance and brightness, every detail of the patient's eye is visible to the doctor. The RESIGHT® fundus viewing system seamlessly integrates into the OPMI Lumera 700 and provides an unparalleled depth of field and edge-to-edge clarity. An integrated Keratoscope visualizes corneal astigmatism without the need to interrupt the procedure and attach an accessory. With cables and optional functions being integrated into the system and perfect interaction of RESIGHT fundus viewing systems, Invertertube® E and an integrated video camera, it provides convenience and accuracy in surgeries.
ZEISS is a world-renowned brand in the optics and optoelectronics industry. As the authorized representative for ZEISS in Sri Lanka, DIMO, with expertise in the medical engineering field, is fully geared to provide all required after-sales services.
DIMO Medical Engineering Solutions constantly improves the quality of treatments provided to patients while collaborating with the finest medical equipment manufacturers in the world and offers an extensive range of products with world-class service.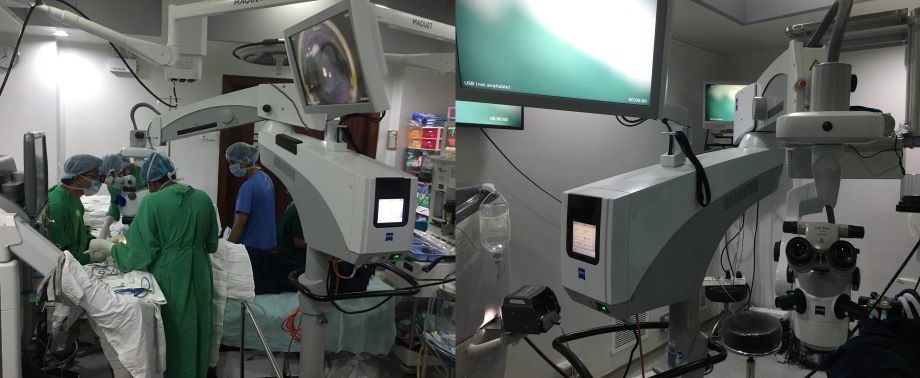 Photo Caption
ZEISS OPMI Lumera 700 surgical microscope